Miyokichi

Attributes

Alias(es)
Yurie (real name)
Age
Unknown
Date of Birth (star sign)
Unknown (Unknown)
Blood type
Unknown
Height
Unknown
Weight
Unknown
Hobbies/Interested in
Unknown
Not good at/with
Unknown
Japanese VA
Megumi Hayashibara[1]
Miyokichi (みよ吉 Miyokichi), real name Yurie, is a mysterious woman who originally worked as a geisha, thanks to Yakumo the 7th's help.[2][3] She normally supports Yakumo the 8th (formerly Kikuhiko) by giving him encouragement and watching his rakugo performances. She also happens to be Konatsu's mother.[4]
Appearance
She normally wears a pink kimono with a plum obi (sash) and cherry blossom designs all over it, although she has worn other kimonos. She always wears lipstick a lot and has her hair in 3 tight buns, with her purple kimono she wears flower hair decorations. She wears white socks and geta (wooden sandals).
In Western clothes, she wears her hair out in loose waves and a pale blue dress. She wears a golden clip in her hair, which matches her handbag, a black pair of shoes with small heels and a black belt.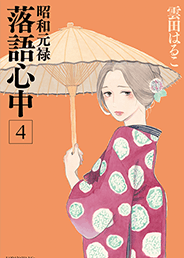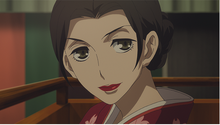 History
She met Sukeroku and Kikuhiko on an opening day of a theatre. Yakumo introduced Kikuhiko to each other, and had met her in Manchuria. Sukeroku had met her during his time with Yakumo in the war.
After Kikuhiko's promotion to futatsume, she began to hang around him and support him while he performed.
She eventually ran away with the geisha house's money and gave birth to Konatsu in the country.
Trivia
She is five years older than Kikuhiko.[3]
It would be assumed from her hairclips that she was a maiko at the time she wore her flower hairpieces.[5]
References